Being homosexual is not a crime: Pope Francis criticises laws that criminalise homosexuality
January 25, 2023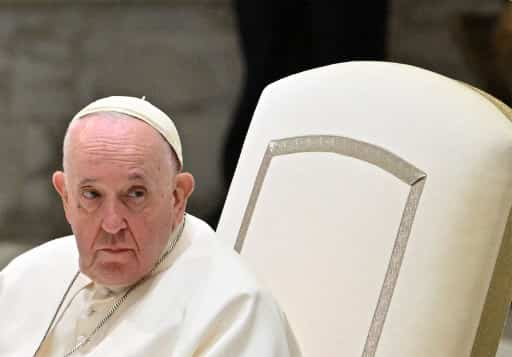 Pope Francis said that being homosexual is not a crime as he criticised the laws that criminalise homosexuality as unjust. In an interview with the news agency Associated Press on Tuesday (January 24), Pope Francis said that God loves all his children and called on Catholic Bishops who support such laws to welcome LGBTQ people into churches. He acknowledged that Catholic Bishops in some parts of the world support laws that criminalise homosexuality or discriminate against the LGBTQ community. However, he attributed such an attitude to cultural backgrounds.
"These bishops have to have a process of conversion," Pope Francis told the Associated Press, adding they should apply "tenderness, please, as God has for each one of us." As per the Human Dignity Trust, some 67 countries or jurisdictions criminalise consensual same-sexual activity. Meanwhile, experts pointed out that even where such laws were not enforced, they contributed to harassment, stigmatisation and violence against LGBTQ people.
The United Nations (UN) has repeatedly called for an end to laws that criminalise homosexuality, by saying such laws violated the right to privacy and freedom from discrimination and were a breach of countries' obligations under international law to protect the human rights of all people, regardless of their sexual orientation or gender identity.
On Tuesday, Pope Francis declared such laws unjust and told the news agency that the Catholic Church can and should put an end to them. "We are all children of God, and God loves us as we are, and for the strength that each of us fights for our dignity," he said.
The Pope also said that regarding homosexuality, there needed to be a distinction between a crime and a sin. "Being homosexual is not a crime. It's not a crime. Yes, but it's a sin. Fine, but first let's distinguish between a sin and a crime. It's also a sin to lack charity with one another," he said.
In 2019, Francis was expected to issue a statement opposing the criminalisation of homosexuality during a meeting with human rights groups. However, the meeting did not happen and the groups instead met with Vatican No. 2 who reaffirmed the dignity of every human person and against every form of violence.
Francis has gone on to minister repeatedly and publicly to the gay and trans community. As archbishop of Buenos Aires, he favoured granting legal protections to same-sex couples as an alternative to endorsing gay marriage, which the Catholic doctrine forbids. However, he was criticised by the Catholic LGBTQ community for a 2021 decree from the Vatican's doctrine office that the church cannot bless same-sex unions because God could not bless sin.
On sex abuse cases, Pope says, 'Church still has a long way to deal with problem'
During the interview with the Associated Press on Tuesday, Pope Francis also shed light on the Catholic Church's handling of sex abuse allegations, including those against Nobel Prize laureate Bishop Carlos Ximenes Belo. Francis suggested that Bishop Belo was indeed allowed to retire early rather than face prosecution or punishment.
De Groene Amsterdammer, a Dutch magazine, reported in September last year that two people had accused Belo of sexually abusing them when they were boys in the 1990s. The magazine added that others had not come forward. After the news came out, the Vatican acknowledged that it had secretly sanctioned Belo in 2020, after Rome came to know about the allegations a year earlier, restricting his movements and ministry and prohibiting him from having contact with minors or visiting East Timor.
However, the Vatican did not provide any details on whether Belo's superiors knew earlier about any claims against him. On Tuesday, Pope Francis said "This is a very old thing where this awareness of today did not exist. And when it came out (in September) about the bishop of East Timor, I said, 'Yes, let it go in the open.' … I'm not going to cover it up. But these were decisions made 25 years ago when there wasn't this awareness."
(With inputs from agencies)
You can now write for wionews.com and be a part of the community. Share your stories and opinions with us here.