Astros-Phillies World Series Game 3 postponed due to rain – MLB.com
October 31, 2022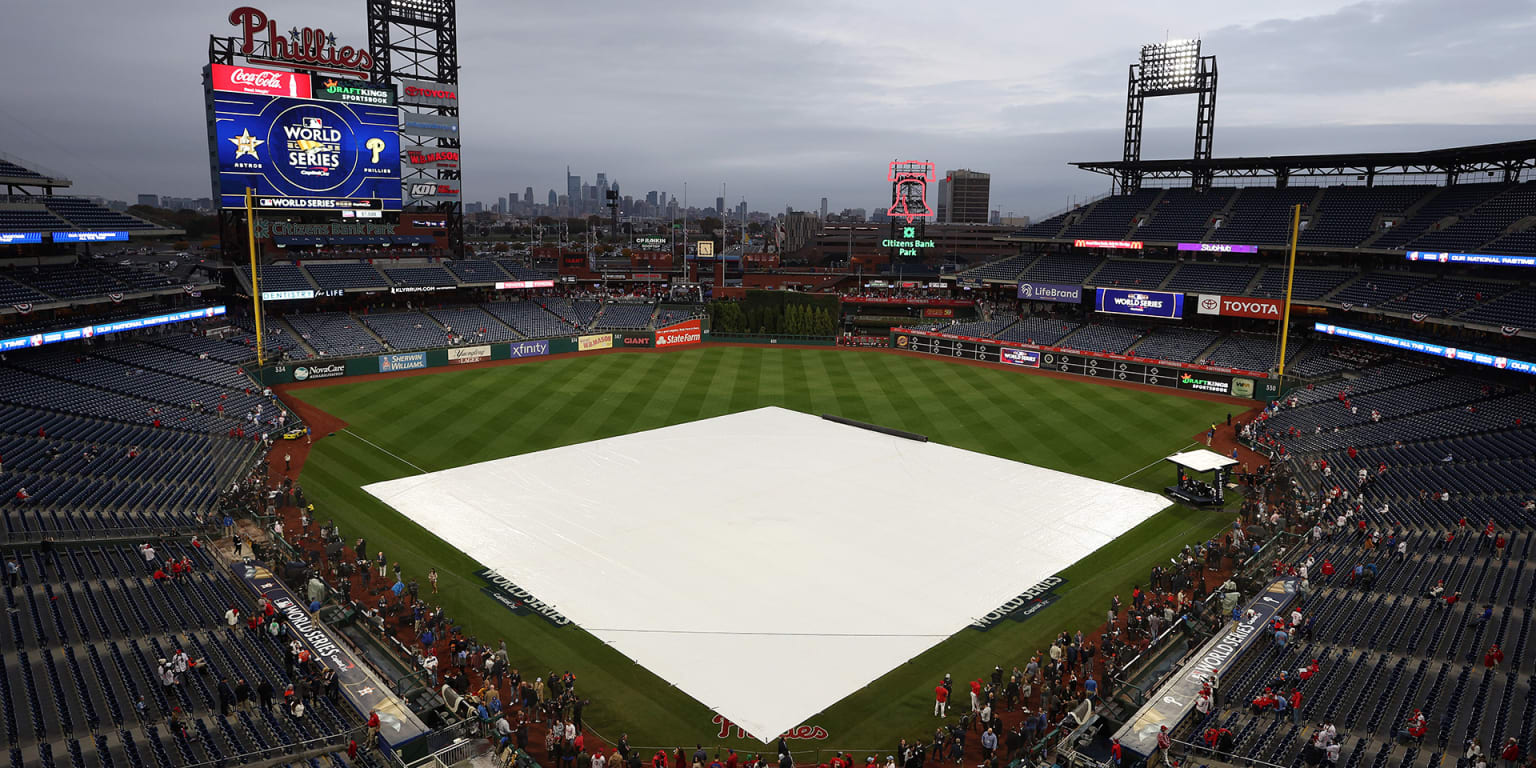 PHILADELPHIA — Game 3 of the World Series between the Astros and Phillies, originally scheduled to be played on Monday at Citizens Bank Park, has been postponed due to inclement weather and a forecast for sustained rainfall throughout the evening.
Game 3 has been rescheduled for Tuesday at 8 p.m. ET, with the remainder of the World Series schedule pushed back by a day, including the travel day back to Houston for a potential Game 6. Major League Baseball made the announcement shortly after 7 p.m. ET, citing the input of three independent weather experts.
Houston and Philadelphia are tied in the series, 1-1.
Tickets for all World Series games are valid for the game number on each ticket (i.e., Game 3 on Tuesday; Game 4 on Wednesday; Game 5 on Thursday; etc.). The revised 2022 World Series schedule, subject to change, is available at MLB.com/postseason.
The Phillies announced that left-hander Ranger Suárez will start Game 3 instead of right-hander Noah Syndergaard, who would have started on Monday. Righty Lance McCullers Jr. is scheduled to start Game 3 for Houston; Astros manager Dusty Baker said before the postponement that McCullers would remain his Game 3 starter, regardless of when it is played.
For Game 4, it will be the Phillies' Aaron Nola vs. the Astros' Cristian Javier. Baker said before the postponement that the rainout allowed Houston to potentially bring Justin Verlander back on regular rest, but the team decided to stick with Javier.
With Games 3-5 now pushed to Tuesday through Thursday, Friday will become a travel day for the clubs in the event that the series does not conclude in Philadelphia.
Game 6 (if necessary) would be played on Saturday at Houston's Minute Maid Park, with Game 7 (if necessary) set for Sunday. A potential Game 6 would be played on Nov. 5, making it the latest World Series game in terms of date. The final games of the 2001 and '09 Fall Classics were played on Nov. 4.