Eagles partner with Operation Warm to provide 30,000 sports bras for girls in need – PhiladelphiaEagles.com
January 25, 2023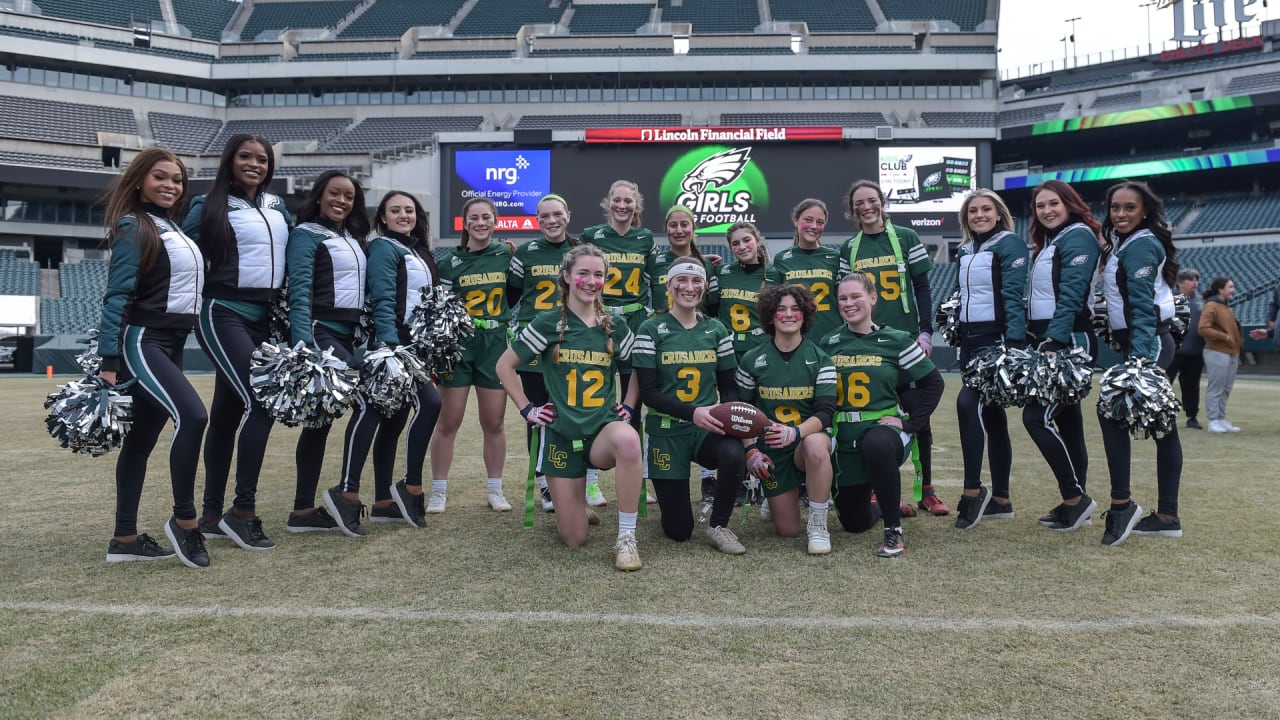 In recognition of the 37th annual National Girls and Women in Sports Day on February 1, the Philadelphia Eagles have announced a long-term, strategic partnership with Operation Warm to design, manufacture, and distribute 30,000 sports bras throughout the tri-state area. As part of last year's unprecedented $100,000 equipment donation to increase access to girls' youth sports, the initiative will now expand to serve 10,000 to 15,000 additional girls attending mid-to-high need schools in Philadelphia.
"We believe that fostering a love for sports and healthy competition at the youth level can open new doors and pathways for children everywhere," said Jeffrey Lurie, Chairman and CEO, Philadelphia Eagles. "There are many benefits that come with participating in sports and these opportunities should be extended equally to boys and girls of all ages.
"What we have seen over the years in our effort to help grow the game of football is that far too many roadblocks are keeping young girls on the sideline. We identified this issue last year and came to the realization that a one-time donation was not sustainable. We wanted to think bigger and more innovatively to find a long-term, scalable solution that could impact the next generation of girls for years to come. Our partnership with Operation Warm is going to help level the playing field so girls from all backgrounds can compete safely, comfortably, and confidently with the proper equipment," added Lurie.
According to research, it has been cited that personal barriers, such as a lack in confidence related to sports and limited resources at home, can play a major role in a girls' reluctance to participate in sports. When barriers to participation are removed, it can lead to many physical, social, and personal benefits, and can even help open doors to higher education.
The sports bra pilot program will be modeled after Operation Warm's mission to connect underserved children to the community resources they need to thrive. The sports bras will be designed, produced, manufactured, warehoused, and shipped exclusively by Operation Warm. Each girl in the program will receive 2-3 sports bras to ensure they are well equipped and properly outfitted for competition.
"Our 24 years of experience providing a gift that unlocks something greater uniquely positions Operation Warm to innovate alongside the Eagles," said Grace Sica, Operation Warm's Executive Director. "Opening doors for athletes in need is an exciting advancement for our mission. The sports bra is an essential piece of equipment, but it's also a gift of confidence through participation in sports."