Wimbledon 2022: Emma Raducanu through, Andy Murray next on Centre Court – live!
June 27, 2022
Murray 1-0 *Duckworth (*denotes next server)
A comfortable enough hold for the two-times men's singles champion Murray to begin his 2022 Wimbledon campaign. He's come a long way since that odd moment at the Australian Open when his fellow professionals assumed he was retiring and made him a farewell video montage …
Here we go again. Murray v Duckworth is under way.
Sean Ingle is on the scene at Centre Court.
Our snap report of Emma Raducanu's excellent victory against Alison Van Uytvanck. Raducanu will face Caroline Garcia in the second round.
Kontaveit (2) beats Pera: 5-7, 6-1!
The big-hitting No 2 seed is safely into the second round with a straight-sets win against Bernarda Pera, who is ranked 69 in the world.
Davidovich-Fokina beats Hurkacz – 7-6 (4), 6-4, 5-7, 2-6, 7-6 (8)!
Hurkacz, a men's singles semi-finalist last year, is out after an epic tussle with the very talented Davidovich-Fokina. And the deciding tiebreaker went to 10-8. High drama on Court 3 and definitely one to catch up on in the highlights …

There's the small matter of Andy Murray coming up next on Centre.

Emma Raducanu speaks to the BBC: "It's an incredibly special feeling to be coming back here at Wimbledon … I felt the support as soon as I walked out of those doors, and walking around the grounds. I want to say thank you to everyone who's been here supporting, through the tough times as well … yeah, it's all worth it to play here on Centre Court and especially to come through with a win.

"Alison is an extremely tricky opponent because, you know, she's had some great results on grass in the recent few weeks, and I played her last summer … the ball stays so low, it's extremely tricky to neutralise such a good serve … she hits the ball hard, so it's tough … I'm extremely pleased to come through that match, and hopefully looking forward to coming out and playing in front of you guys again.

"I've been feeling it [the energy around the venue] ever since I stepped on to the practice courts, the first day. I felt people behind me like "Emma, you got this," and I'm like, "Yeah, I got this" … It's just amazing to walk on these grounds and these courts … I'm just so happy to stay another day."
Raducanu defeats Van Uytvanck – 4-6, 4-6!
There it is! Raducanu, who has visibly grown in confidence throughout this, is taking on some more and more expansive shots … she races to 40-0, sends a forehand fractionally wide for 40-15 on the first match point, but then draws her opponent into the net and has a simple task to pat a volley into the open court to finish it … and the celebrations can begin. Raducanu beams in the direction of her team in the stands. Happiness, and a touch of relief that her campaign is under way with a win.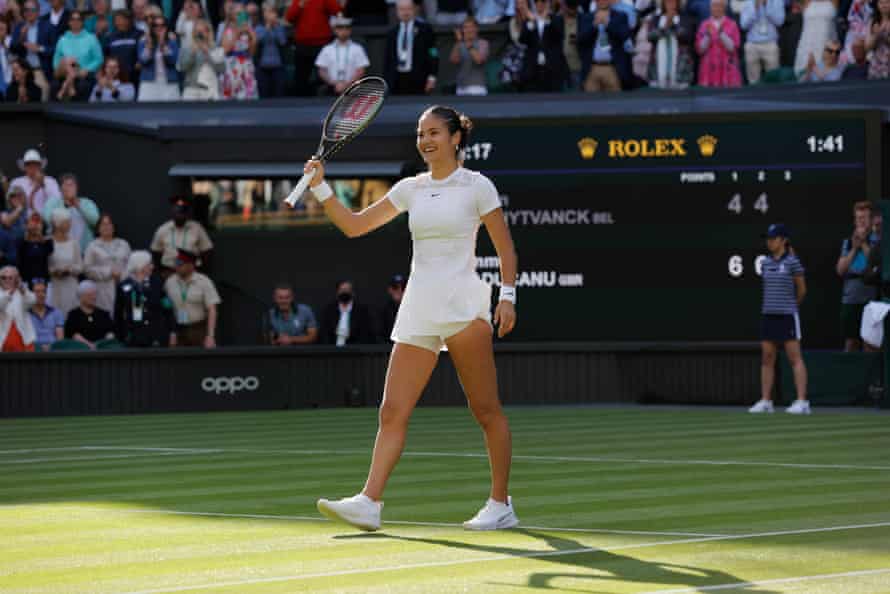 Van Uytvanck 4-6, 4-5 *Raducanu (*denotes next server)

The home favourite breaks, and will now be able to serve for the match! There is a moment of hesitation as Hawkeye has a look at a line call – the ball is long from Van Uytvanck, and Raducanu is a game away from a highly impressive opening victory.

Struff and Alcaraz are going deep: 6-4, 5-7, 6-4, 6-7 (3), and now 2-1 Struff with the Spaniard serving in the fourth game of the final set.

*Van Uytvanck 4-6, 4-4 Raducanu (*denotes next server)

Thank you John and hello again, everyone. Both players are fully into this match now, into their rhythm, and the exchanges from the back of the court are powerful and precise. This latest game goes to 30-30 but Raducanu finds a couple of strong serves and she is back level in the second set.

Van Uytvanck 4-6 4-3 *Raducanu (*denotes next server)

Van Uytvanck remains resistant, and with a forehand, goes back ahead in the second set. And with that, I hand back to Luke McLaughlin for the evening session who will be your guide as Radacanu Ridge becomes Murray Mound.

Van Uytvanck* 4-6 3-3 Raducanu (*denotes next server)

This is a more assured service game from Raducanu, her forehand working against her opponent's forehand. All level in the second set. Meanwhile, Carlos Alcaraz has levelled against Jan-Lennard Struff to go into a fifth set, an early-round classic being played on Court No 1, it seems.

Van Uytvanck 4-6 3-2 *Raducanu (*denotes next server)

Back comes Raducanu, and back comes a break-back, and to love. Back on serve we go. And there's some spots of rain coming, too. "Little drops of rain, whisper of the pain, tears of love's lost in the days gone by," as Glasto stalwart Robert Plant had it many years ago.

Van Uytvanck* 4-6 3-1 Raducanu (*denotes next server)

Van Uytvanck will not be going quietly, not at all, though Raducanu does seem to be able to push her into mistakes. A glimmer at 0-30 becomes 30-30 soon enough but then comes a volley at the net, and a break point. Then, after a great rally, the Belgian is the victor, and takes the initiative. Raducanu had a chance to blam a winner but went for safety and paid for it when Van Uytvanck crashed the ball back down the line.

Van Uytvanck 4-6 2-1 *Raducanu (*denotes next server)

And like the 39 bus to Southfields, two come at once, and Van Uytvanck serves to love.

Van Uytvanck* 4-6 1-1 Raducanu (*denotes next server)

That was easier, a love hold for Emma Raducanu.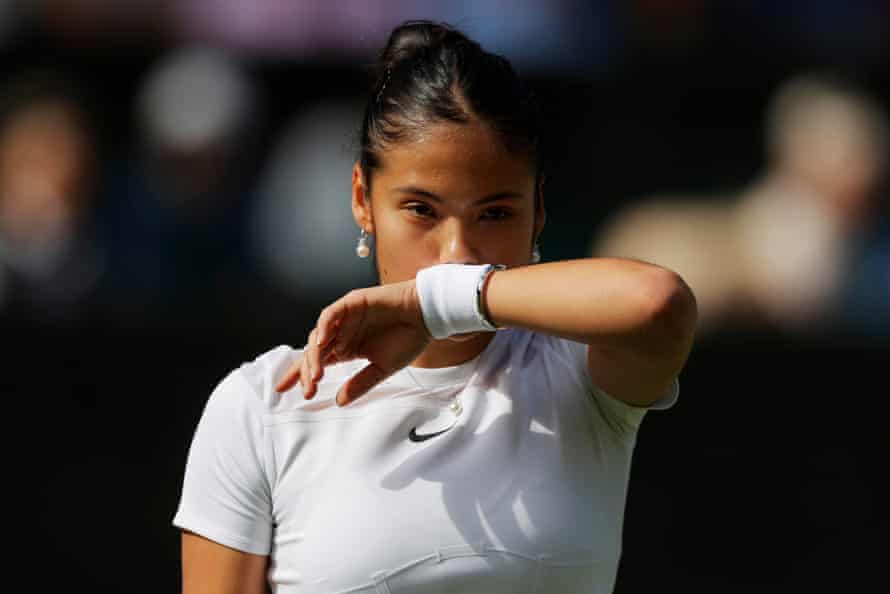 Van Uytvanck 4-6 1-0 *Raducanu (*denotes next server)

Van Uytvanck looks wobbly after conceding that first set. It's 0-30 after a double fault, then 0-40 before Raducanu wallops the ball too long from the baseline. The Belgian fights back to deuce, showing she's by no means quit. What looks a miscue lands what seems a lucky break point before both players seem to lose their cool over a rally, Radacanu eventually netting from the back of the court. Van Uytvanck double faults for deuce again, then nets a backhand for another break point, only to serve and volley her way out. Some Raducanu self-admonishment as she makes a backhand error, and then some relief when her lob saves her deuce once more. These two don't do simple games. Another break point, her sixth, but again, she can't take it. Then, a winner is begging as she speeds to the ball, and yet she nets. Van Uytvanck then hits too long but, eventually, and at last, after seven deuces, she holds.
Raducanu takes the first set 6-4
The BBC commentator team, of Sam Smith and Tracey Austin, are discussing South London traffic. To drive from Bromley to Roehampton isn't easy, apparently, and actually truly. Not easy by public transport, either, which is South London for you. Meanwhile, Van Uytvanck's crashing forehand lands her a 0-30 lead, only for Raducanu to hit back with a squawk of celebration. Then a let called on 15-30, despite a challenge from the Belgian. But 15-40 comes soon enough, though a good serve halves the breaking chance, and then a top-spun backhand tempts her opponent into an error. Deuce, then set point is granted by a skewed backhand outside the lines. Set point is begging but Raducanu gets too low and nets. A waste, though a similar efforts takes the rally into her control, and another set point is her. With a clubbing backhand, she takes it this time.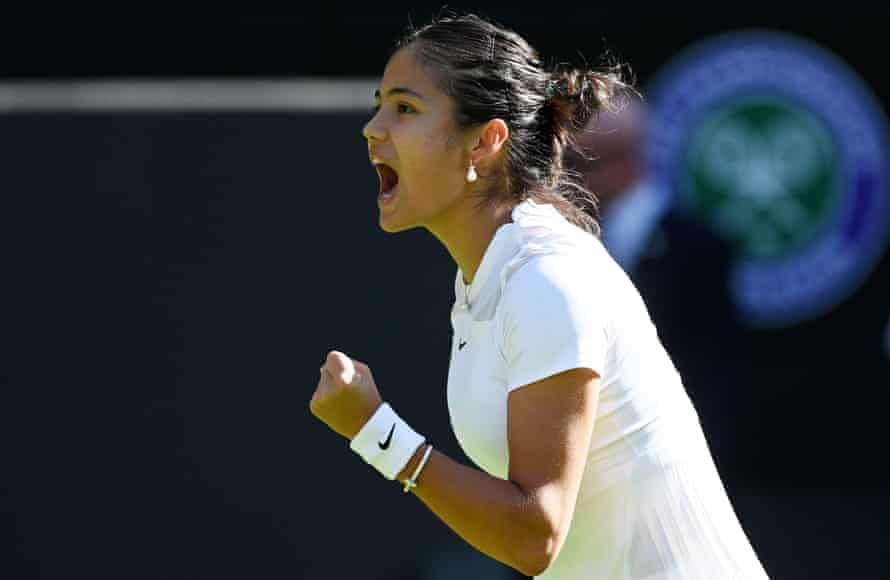 Van Uytvanck 4-5 *Raducanu (*denotes next server)

Big roars for Raducanu's chase down the court to crash home for 0-30, then she tempts Van Uytvanck into netting to land her own three break points. Then, Van Uytvanck, with a forehand, clanks the ball out. A second break, and Raducanu serves for the set.

Van Uytvanck* 4-4 Raducanu (*denotes next server)

Oh, now it's Raducanu's turn to wobble, and a crouching baseline hit from the back of the court doesn't clear the net. Then, she misreads the spin on drop shot from her opponent and there's three break points on offer. The first is taken rather too easily.

Van Uytvanck 3-4 *Raducanu (*denotes next server)

A whipped winner gets the jewellery rattling on Centre Court. Emma seems to have her eye in, and with a crashed backhand, she has two break points. And the pressure tells when the Belgian chokes up and double faults.

Van Uytvanck* 3-3 Raducanu (*denotes next server)

Raducanu's serve is holding up well at the moment, and 3-3 soon comes. One of those tennis bros you hear at the slam events starts up with that "let's go, Emma, let's go" chant.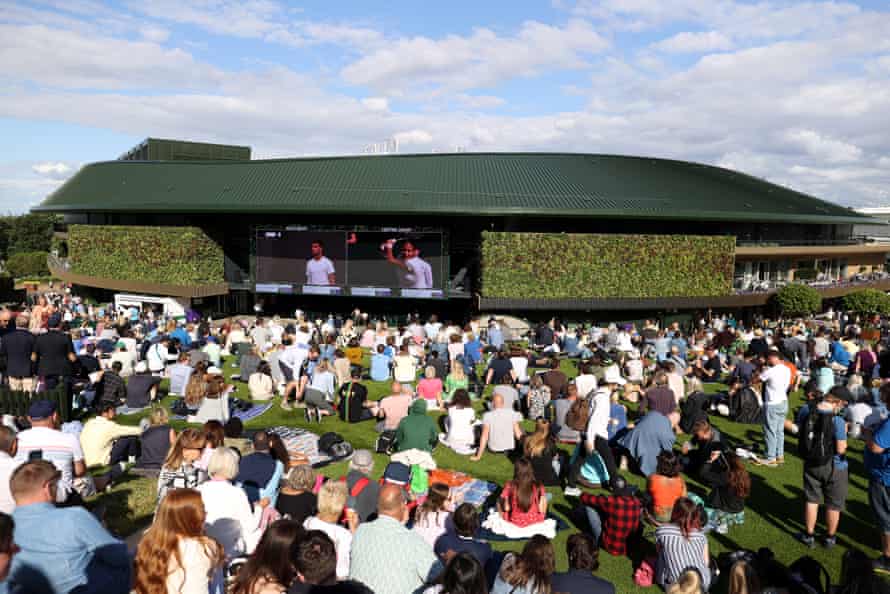 Van Uytvanck 3-2 *Raducanu (*denotes next server)

Van Uytvanck has a crashing serve when she connects and aces past Raducanu to level at 15-15, and eventually it sees her to winning the game. This is a bruising encounter for Dame Emma.

Van Uytvanck* 2-2 Raducanu (*denotes next server)

Hello, hello, I'm back again for the next hour as Radacanu serves to level in the first set, and does so with quite the roar.

Van Uytvanck 2-1 *Raducanu (*denotes next server)

The Belgian edges ahead again. The players take a drink. And I will hand you over to the estimable John Brewin for the next hour …

*Van Uytvanck 1-1 Raducanu (*denotes next server)

This game turns into quite a battle. The Belgian forces it to 30-30. She hits wide, and Raducanu has game point … but then a high-risk angled forehand just kisses the line from Van Uytvanck and it's deuce. Then break point for Van Uytvanck – saved by Raducanu – and a second break point is negotiated with a brilliant sliced drop shot. Raducanu probably looks the more nervous of the two players and you sense that Van Uytvanck is trying to capitalise on that. Raducanu has another game point but carelessly hits a forehand wide, and then hits long for a third break point for her opponent … Back to deuce again … Raducanu, eventually, manages to hold in a game that lasted over 10 minutes as Van Uytvanck is forced into the net but cannot get a drop shot back.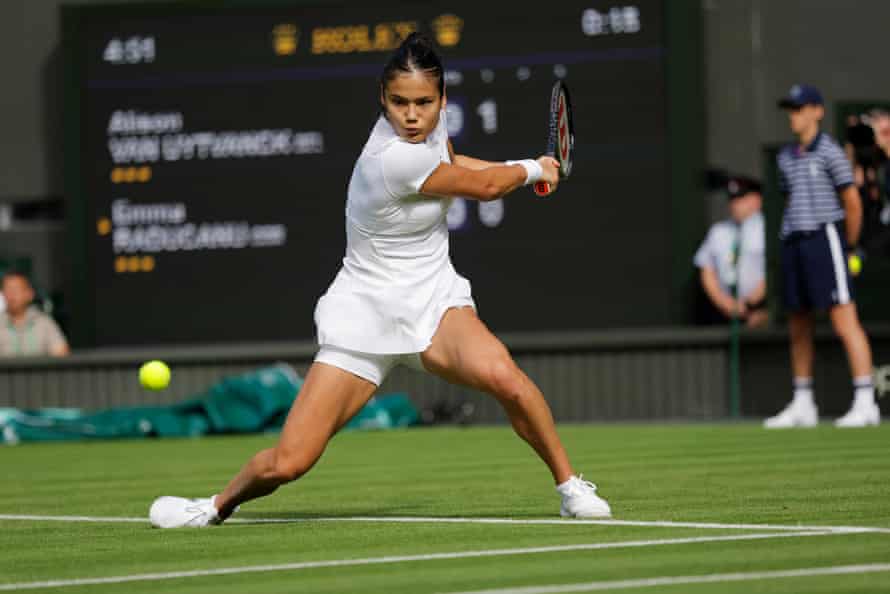 Hurkacz has levelled it up against Davidovich-Fokina, winning the fourth set 6-2, and making it 2-2 and into a deciding set.

Van Uytvanck 1-0 *Raducanu (*denotes next server)

Raducanu earns herself a couple of break points with some typically aggressive hitting from the baseline. However, Van Uytvanck saves them both, and when Raducanu finds the net with a forehand on a first-serve return, the Belgian edges in front. That was so nearly a nerve-settling break to open for Raducanu, but positive signs anyway.

Here we go. Emma Raducanu's debut on Centre Court is under way.

Sunshine and blue skies in SW19.

On Court 1, Alcaraz took the second set against Struff, 5-7, and now leads 2-1 in the third.
Alison Van Uytvanck and Emma Raducanu stroll out on to Centre Court. Raducanu smiles and waves as she gets a big cheer from the fans. She'll be nervous – wouldn't you be?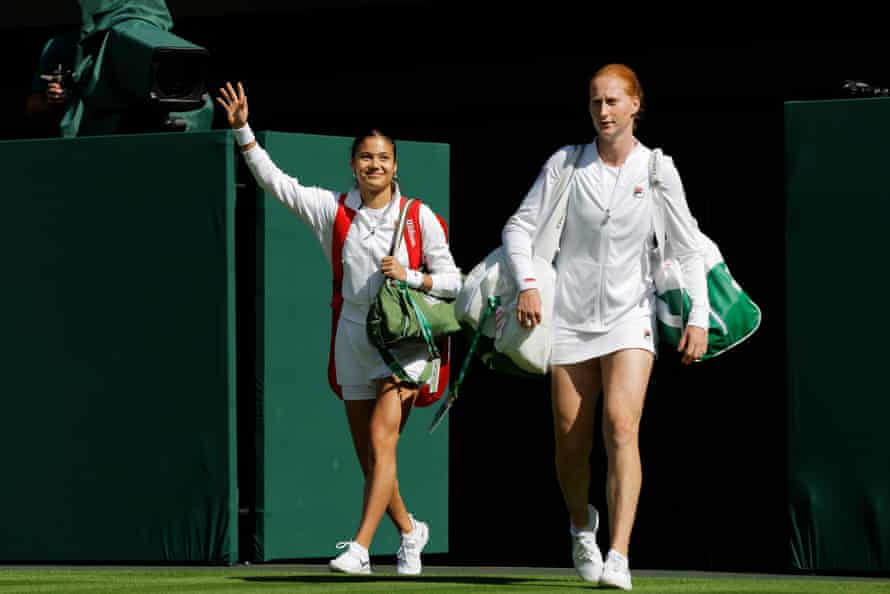 Emma Raducanu is up next on Centre Court, for the first time:
The back courts have dried out following the earlier deluge, and the matches are recommencing. On Court 3 Hubert Hurkacz has grabbed a set back against Davidovich Fokina: the score now stands at 7-6 (4), 6-4, 5-7.
Norrie beats Andujar – 6-0, 7-6, 6-3!
Following that pesky rain break, Norrie dispatches a lovely winner down the line to break Andujar's serve and seal progress to the second round in straight sets. A very accomplished performance from the British men's No 1.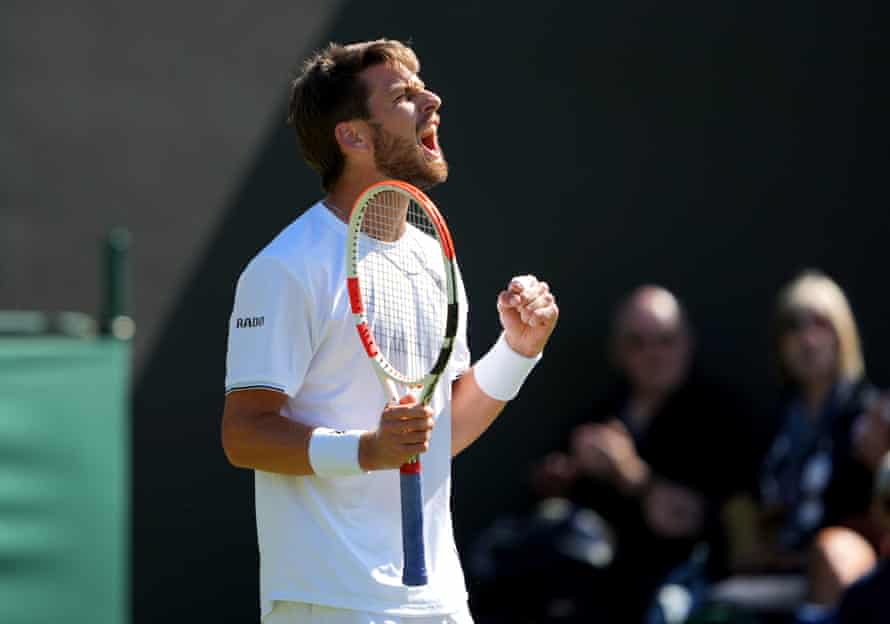 Djokovic speaks to the BBC: "It's always a pleasure to come back to Centre Court at Wimbledon. Credit to Kwon for playing some really high-quality tennis. He deserves applause, definitely … I didn't have any lead-up, or preparation tournaments or matches … you're going to feel a bit less comfortable than usual … it was really difficult to go 'through' him so I had to find a way, tactically, to get in control of the point. I had to put a lot of variety in the game … At this level, one or two points decide the game … I want to thank you [the fans] for coming out and supporting both players today.

"I owe a lot to this sport … I'm as dedicated as anybody out there … the love, and flame for this sport still burns in me … I try to deliver the best tennis on these most significant courts."
Djokovic beats Kwon – 6-3, 3-6, 6-3, 6-4!
That was a fine effort by the world No 81, Kwon. He put Djokovic in some uncomfortable places at times but the Serb exerted his authority in the end. The reception from the crowd is warm for both players.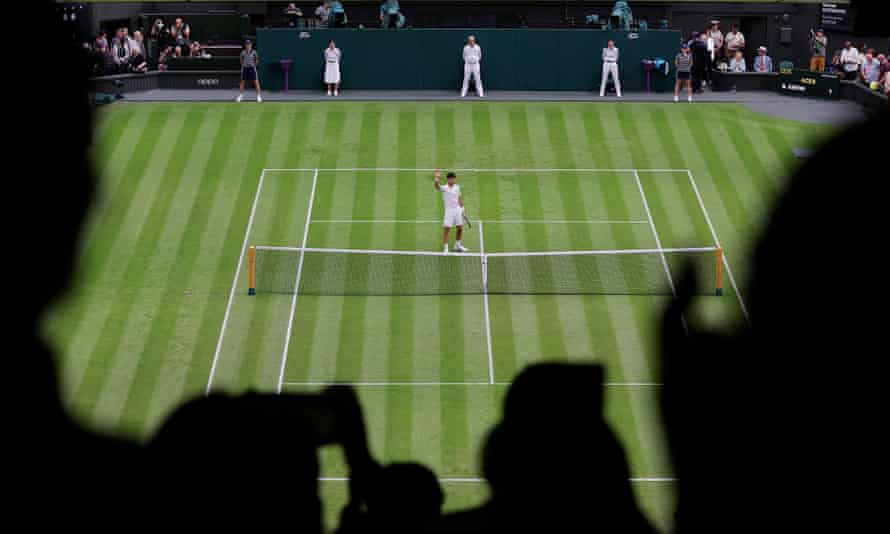 Over on No 1 Court, Struff and Alcaraz and locked in a battle for the 10th game of the second set. Alcaraz wound up one obscenely good down-the-line forehand a few moments ago, and ominously for his opponent looks to be seeing it better and better.

That said, Alcaraz has converted 0/6 break points in the match, and Struff eventually holds for 5-5.

Kwon holds for 5-4 in the fourth. Djokovic will serve for the match …

Now a break up, Djokovic is serving at 4-3 against Kwon, aiming to move to within a game of victory and progress to the second round.

Alcaraz will ultimately have too much though, won't he? I reckon your bet will be alive into the second round, at least.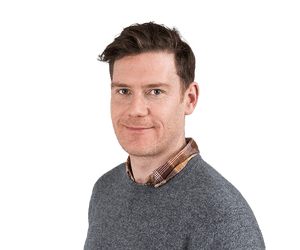 Paul MacInnes

Wimbledon is turning to big data to help improve fans' tennis knowledge, after discovering even ticket holders at the Championships were not aware of most of the players in the game.
Struff and Alcaraz are locked at 3-3 in the second set after Struff took the first 6-4.