Russia-Ukraine war latest: captain of sunken warship killed in explosion, says Ukraine; street battles reported in Mariupol – live
April 15, 2022
15.57
Captain of sunken warship killed in explosion, says Ukraine
We've been reporting today that Russia's Moskva warship sunk while being towed to a port after an explosion.
Now, Ukraine claims Moskva's captain was also killed in that explosion.
In a statement on Telegram, Anton Gerashchenko, an adviser to Ukraine's ministry of internal affairs, said:
1st rank captain, cruiser Moskva flagship commander of the Black sea Fleet, Anton Kuprin died during the explosion and fire on board."
While Ukraine said its military successfully struck the flagship missile on Wednesday, Russia's defence ministry said a fire onboard and "stormy sea conditions" were to blame.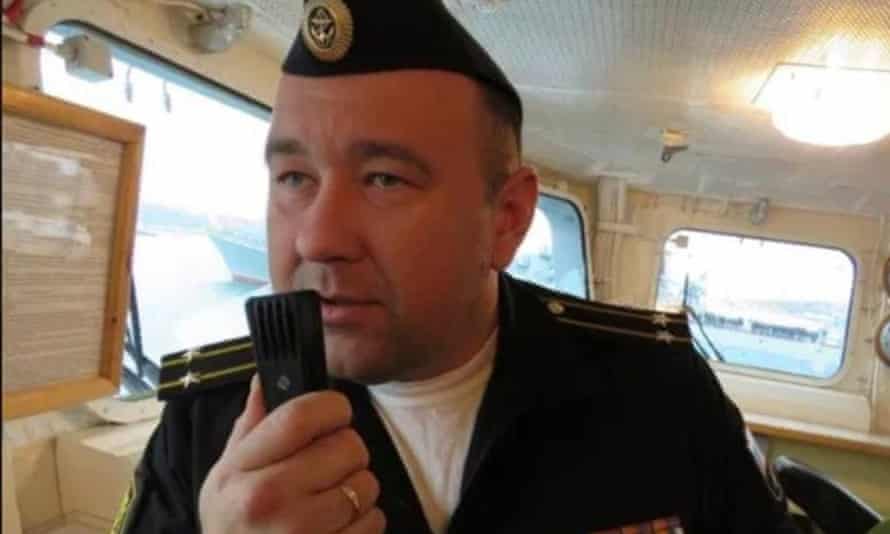 Russia warns missile strikes on Kyiv 'will increase' after powerful explosions heard overnight
There have been some new lines coming out of the Russian defence ministry which are being reported by the state-owned RIA news agency, after powerful explosions were heard in Kyiv overnight.
The ministry has said it will respond to the actions of Ukrainian forces within Russian territory with an increase in attacks on Kyiv. A spokesperson said:
The number and scale of missile strikes against targets in Kyiv will increase in response to the Kyiv nationalist regime committing any attacks of a terrorist nature or sabotage on Russian territory.
The Russians claim they have hit 13 military facilities in different areas overnight, and that Russia's S-400 air defence system shot down a Ukrainian Mi-8 helicopter near Chernigov. According to Russia's military, it was a helicopter which carried out an attack yesterday on the village of Klimovo, in Russia's Bryansk region.
The ministry of defence spokesperson Igor Konashenkov also said that "a group of Russian troops and units of the People's Militia of the Donetsk Republic completely liberated the Illich Iron and Steel Works from Ukrainian nationalists".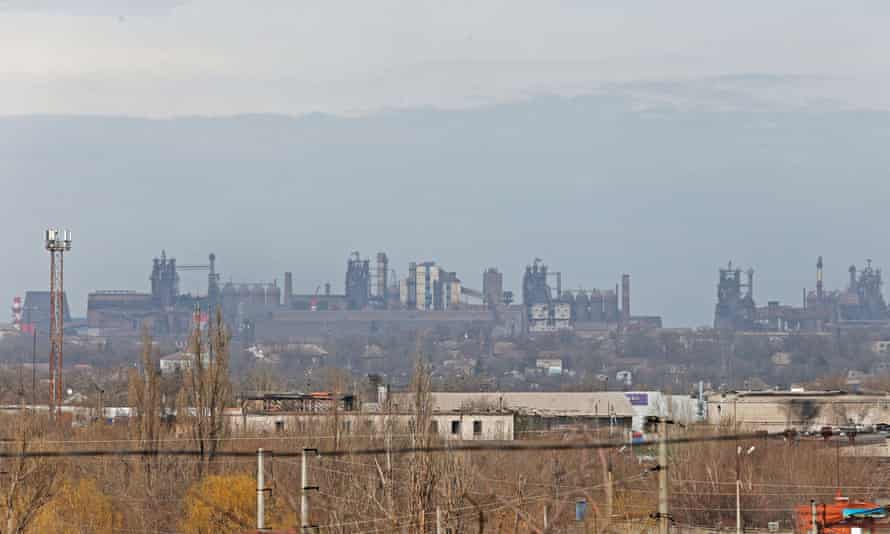 RIA reports that most of Mariupol has already been brought under control, but clashes continue mainly in the area of the Azovstal plant, where a significant part of the Azov nationalist regiment is continuing to show resistance.
The news agency is also reporting that at least two anti-missiles were fired at air targets over the city of Belgorod on Friday morning. The Russian city is to the north-east of Ukraine's Kharkiv region. There has been no official confirmation of the action, which RIA says was witnessed by its correspondent in the region.
The Guardian has not independently verified any of the claims from the Russian defence ministry or the RIA news agency.
Spokesperson for the International Committee of the Red Cross (ICRC) Lucile Marbeau has been interviewed on Sky News in the UK. Speaking from Dnipro, she said:
The concerns right now is for ICRC to be the close to the people next to the frontline. Currently we have teams in the east working 24 hours to be able to support those who remain in places where there's ongoing hostilities.

So if you take the city of Donetsk, colleagues are going there on a daily basis in order to evacuate civilians there. Usually those who stay are the most vulnerable. We see it's elderly people, it's people who don't have any money, who don't know if they leave where to go.
Of those who have fled, she said the ICRC is supporting them with basics like food, but also financial assistance.
On the prospect of a further offensive by Russia in the east of Ukraine, she told viewers:
This is a huge concern for us, because many civilians have already fled these areas. Those who remain behind are the most vulnerable. They need protection. And they, of course, are protected by international humanitarian law. But we need to be able also to assist them.

There's war-wounded who need specific treatment, but when you're frontline the basics come to lack. There's going to be a lack of things as simple as aspirin, antibiotics, in order really to be able to treat not very serious infections. But when already people are weak because they've been staying weeks in a shelter, they're elderly, they're not getting proper food, of course, these infections can become really serious.
With regard to security issues faced by the ICRC itself, she said:
Our duty is to stay and operate and be as close as possible to the civilians who need our support. Of course we need security guarantees for our staff, and the security guarantee for our staff is actually the security guarantee for the civilians we are assisting, whether we're bringing to them directly humanitarian aid, or whether we are facilitating safe passage.

So this is our duty, this is our task, and of course we're going to stay as long as possible in order to be able to just basically save lives and help people.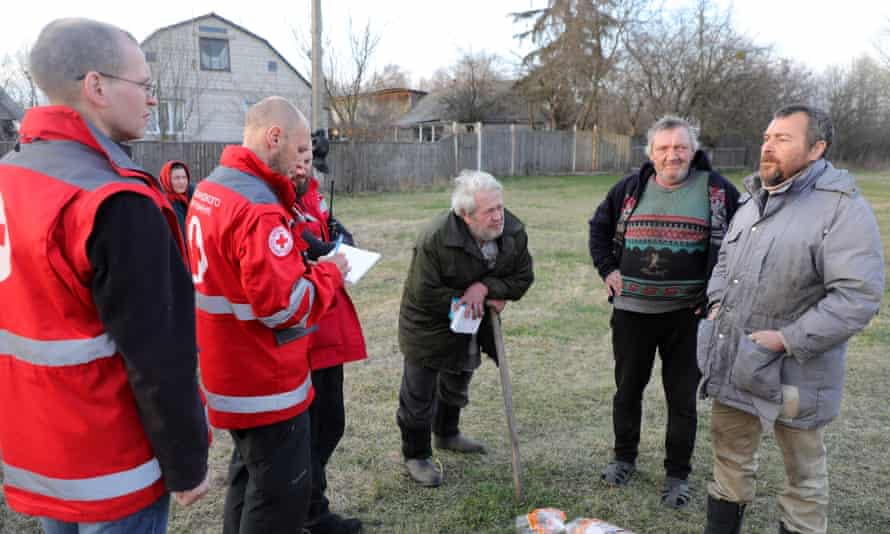 Here is where the situation currently stands:
Ukraine's president, Volodymyr Zelenskiy, has praised his people's bravery and resolve on the 50th day of war, calling Russia's invasion "absurd" and "suicidal" in his latest national address. "We have withstood 50 days already. Fifty days of Russian invasion, although the occupiers gave us a maximum of five," he said.
The Russian flagship cruiser Moskva has sunk in the Black Sea off southern Ukraine, according to Russia's defence ministry. Ukraine claims it was was hit by Ukrainian weaponry – the Neptune cruise missile, which Ukraine builds itself. Russia maintains that a fire onboard and then "stormy sea conditions" while it was being towed to port were to blame. Russia only has three of this flagship-class of warship, which have crews of almost 500 sailors, and the loss of the Moskva is a big blow. The former CIA director David Petraeus described Russia's admission as a "rare moment of truth … I'm surprised that they admitted it," he told the BBC.

Moskva served a "key role as command vessel and air defence node", the UK's Ministry of Defence said.
Vladimir Putin may resort to using a tactical or low-yield nuclear weapon in light of military setbacks in the invasion of Ukraine, the CIA director, William Burns, has said. During a speech in Atlanta, Burns said: "Given the potential desperation of President Putin and the Russian leadership … none of us can take lightly the threat posed by a potential resort to tactical nuclear weapons or low-yield nuclear weapons." The Kremlin placed Russian nuclear forces on high alert shortly after the invasion of Ukraine began on 24 February.
A total of 6,673 alleged war crimes committed by Russian troops in Ukraine are under investigation, Ukraine's prosecutor's office has said. 198 children have been confirmed to have been killed, the office added.
Russia's deputy foreign minister Alexander Grushko said Moscow would take "security and defence measures that we will deem necessary" if Sweden and Finland join Nato. In an interview with the Russian state-owned news agency Tass, the minister said the membership in the military alliance would "seriously worsen the military situation" and lead to "the most undesirable consequences". Finland and Sweden had earlier taken a major step towards joining Nato.
Ukraine's foreign ministry has appealed to the United Nations to facilitate the return of Ukrainian children who have been "illegally deported" to Russia. In a statement, the ministry said Russia had "engaged in state-organised kidnapping of children and destruction of the future of the Ukrainian nation".
France is planning to return its embassy to the Ukrainian capital, Kyiv. It had moved to the western city of Lviv in March as Russia invaded. The Ukrainian president, Volodymyr Zelenskiy, has urged allies to resume their normal diplomatic presence in Ukraine.
Zelenskiy further urged European countries to give up Russian oil that provides "blood" money to Moscow, and appealed for more weapons to help Ukraine repel Russia's invasion.
Nine humanitarian corridors have been agreed for Friday, Ukraine's deputy prime minister, Iryna Vereshchuk, has announced. A total of 2,557 people were evacuated from Ukrainian cities through humanitarian corridors on Thursday, Vereshchuk confirmed, with 289 of those from Mariupol. The head of the UN World Food Programme, meanwhile, said people were being "starved to death" in the besieged city.
Armenia has begun making payments for Russian gas in roubles, minister of economy Vagan Kerobyan told RBC. "We need to move towards national currencies … As far as I know, the last few payments were in roubles, but at the appropriate rate," RIA cited Kerobyan as saying.
A Russian legislator and two aides pushed a covert propaganda campaign aimed at winning US government support for Russia's foreign policy agenda, including moves against Ukraine, according to a Justice Department indictment seen by the Associated Press.
French president Emmanuel Macron has pledged to deliver 24 fire trucks and ambulances as well as 50 tons of emergency equipment to Ukraine.
For a more detailed summary, please see our previous update.
Nine humanitarian corridors have been agreed for Friday, Ukraine's deputy prime minister, Iryna Vereshchuk, has announced.
Those wanting to evacuate the cities of Mariupol, Berdyansk, Tokmak and Energodar to Zaporozhye are able to do by car, she said in a post this morning on the Telegram messaging app.
Humanitarian corridors in the Luhansk region will operate subject to the end of shelling by Russian forces, she added.