LAMB, Barbara Rowand
March 27, 2022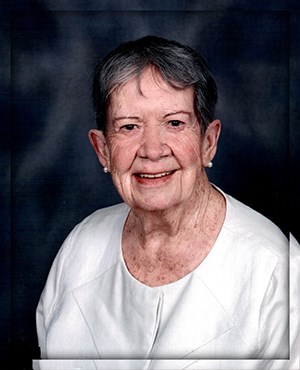 February 4, 1927 – March 23, 2022
It is with fond memories, that the Lamb, Allcock, Melville and Gillespie families announce the passing of Barbara Rowand Lamb on March 23, 2022 surrounded by family and friends.
Born on February 4, 1927, to Garret John Lamb and Emma Luella Lamb, Barbara was predeceased by her siblings and their spouses, Elizabeth Allcock (Bill), Laurence Lamb (Florence) and Fraser Lamb. Married to Tom Gillespie in 1981, he predeceased her in 2003.
Aunt to the Allcocks – Bill, Jim, Margaret, Marion and John; Aunt to the Lambs – Tom, Barbara, and Marie, Great-aunt to many, and Great-great aunt to many more. She became an instant Grandma Barb in 1982 with the Gillespie clan (Mary Lou, Janice, Helen, Ruth Anne, Chris, David) and since has become a Great Grandmother and Great-great grandmother!
Barbara has a special place in the hearts of the Melville family (Sally, Nancy and Jamie) especially Sally who shared her passion for knitting.
Barbara was a proud graduate (and longtime supporter) of Queen's University. Starting out in public relations working for Clint Melville, she became a teacher in 1960 and later led the business department at Sir James Dunn C & V S (of nine teachers, six were men). She was the first female (in the SSM School Board) to be appointed as Vice-Principal at Collegiate.
A committed volunteer in the community Barbara was President of Maycourt in 1976-1977, often campaigned for the Salvation Army and received an Honourary Life-time Member award from the Sault Theatre Workshop.
For many years – her "beanbag" friends sustained her and especially Elta McLeod as they moved through life to end their days at Collegiate Heights. Her favourite Tuesday group met on Fridays and "Barbara Lamb's knitting group" met Thursdays. She travelled extensively all of her life and frequently went on adventures with family.
In recent years, it took a village to care for her: Margaret Buffington, her niece, her friend and her companion to "care visits" for many years; Christine Elliot who went above and beyond in kindness and caring; Chris Gillespie who always showed up at SAH emergency to sit through the night and never forgot to celebrate special occasions; Dave Gillespie – who never arrived on time yet was always timely in his visits from Peterborough – he was the only one to call her "Mom"; Joyce Nanni and Komal Thakur her personal care workers for the last two years provided exceptional leadership and love; Peggy Cooper, a friend who took on all the responsibilities of being the "daughter in the Soo" for Barbara. And Helen Gillespie who did her best by Barbara and never forgot to call at 4 pm every day. We are grateful for the village.
Barbara was committed to supporting local charities. We ask that you do the same and consider the Soup Kitchen.
A Celebration of life to be announced at a later date. Our thanks to Premier Healthcare, Collegiate Heights and Paramed. Arrangements entrusted to Arthur Funeral Home – Barton & Kiteley Chapel (492 Wellington St. E., 705-759-2522). Please visit www.arthurfuneralhome.com to leave a message of condolence as a keepsake for the family.