Boris Johnson says defence spending will rise to 2.5% of GDP, after cabinet row
June 30, 2022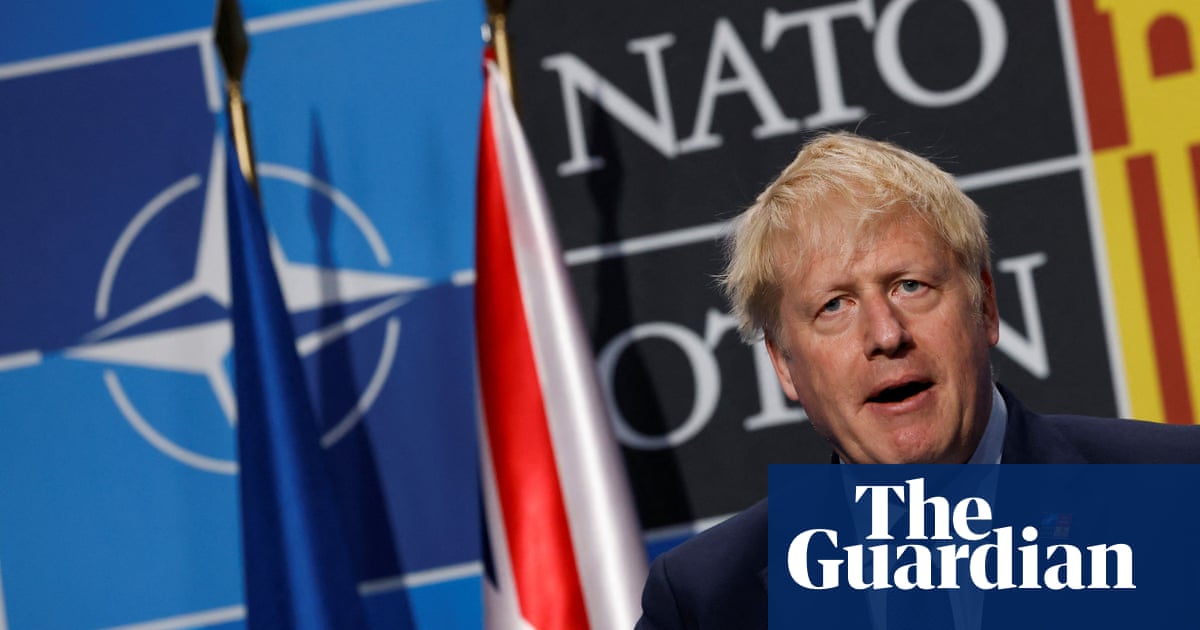 Boris Johnson has said the UK will spend 2.5% of GDP on defence by the end of this decade, after a cabinet row over defence spending and claims the government would ditch a key manifesto commitment on the issue.
Speaking at the end of the Nato conference in Madrid, the prime minister said: "We need to invest for the long term in vital capabilities like future combat air, while simultaneously adapting to a more dangerous and more competitive world.
"The logical conclusion of the investments on which we propose to embark, these decisions, is that we'll reach 2.5% of GDP on defence by the end of the decade."
Defence sources said the decision would mean a total budget of £74.5bn in 2029-30, and a cumulative extra £55.1bn to reach 2.5% in 2030.
At a press conference capping a nine-day trip during which the prime minister has also attended a Commonwealth summit in Rwanda and the G7 summit in southern Germany, Johnson said Vladimir Putin had succeeded in uniting the west against Russia.
He was, however, dismissive of Ukraine's prospects of joining Nato. "His invasion has actually brought the west together … It was never remotely likely that Ukraine was going to join Nato any time in the foreseeable future, everybody knew that. It was completely mythical."
Those comments drew some veiled criticism from a Ukrainian journalist at the press conference who said it was "sad to hear" no one expected Ukraine to join Nato.
Johnson said the agreement at the summit for previously neutral Sweden and Finland to be able to join Nato showed how the alliance was purely defensive.
He said: "That these two paladins for peace have joined Nato tells you all you need to know about Nato, and all you need to know about Putin."
The announcement of the extra defence spending is likely to bring to a close several days of off-record but determined bickering with the defence secretary, Ben Wallace, and senior army figures.
Wallace was reported to have sought a commitment to 2.5%, but Downing Street initially refused to be drawn on the idea, with Johnson only stressing what he said was a high existing defence budget.
In a particularly confusing sequence of events, a senior UK government source at the G7 summit said there needed to be "a reality check" on the 2019 manifesto pledge to increase the defence budget each year by 0.5% above inflation – only for Johnson to try to argue it would be achieved.
After Johnson's announcement, a source close to Wallace said the defence secretary "has always been clear that as the threat changes, so should defence spending", adding that Wallace was "very grateful" for an increase in the budget from 2020.
At the press conference, Johnson said Nato should offer a security guarantee for Ukraine: "All of Nato, or just some Nato countries, should be offering deterrence by denial, so that we fortify Ukraine with Nato-grade weaponry, plus intelligence, plus training, so that no future attack is conceivable.
"That's stage one, and that's the position we want to get to. And I think that will prove to be a very effective solution. There can then be a further argument down the track about Nato, but that would be my interim solution."
The prime minister said there had been "strong unanimity" at Nato and the G7 but the argument on supporting Ukraine had to be made across the international community. He said he had been listening to "other voices, some of whom I think are under a misapprehension about what is really going on, and who is really to blame, and the spikes in fuel prices, under a misapprehension about what Nato really is".
He said: "I think we have to recognise that we have to do more as an alliance to counteract some of the propaganda coming out from the other side. I think we have to be humble about that and understand that not everyone is going to see it our way first time."
Downing Street has said it is almost doubling the UK commitment to military support for Ukraine with an additional £1bn.