Arsenal v PSV in the Europa League, plus Premier League news – live
October 20, 2022
54 min: PSV go close! Xavi Simons smashes over after Tezos sets him up. Arsenal find the space for a counter and again Jesus misses a chance, and then from the loose ball claims a penalty. Nothing doing.
51 min: Arsenal start the half slowly, but then Sako and Jesus combine, opening up the PSV defence, only for Jesus to scuff his shot. That was better but Jesus's shooting boots have not accompanied him in the Europa League.
47 min: Mikel Arteta gets a telling off from the referee, who it seems is no fan of the technical area encroachment that's become a habit from the Arsenal manager.
46 min: Back underway at the Emirates…
Ben Clark has a question for the floor: "Was there some type of bet like mayors of North American cities make when their teams face in a championship? Rangers won the qualifier so this year PSV had to wear a Rangers inspired shirt with the red trim collar?
I apologize if these are traditional PSV away shirt colours? Thanks for any insight."
PSV continue to sit – and be held back – by Arsenal but have defended well for the first half. They are spying their own route to the next round, of course. The promise of attacking football and even Ruud-inspired aggro has dissipated, too. Better in the second half, we hope.
41 min: It's still all Arsenal but they still haven't looked like scoring. Fabio Vieira goes for goal with a free-kick but misses the target.
Not mentioned before, but Arsenal legend Willian is playing for Fulham tonight. His return to the Premier League one of the oddest of the last transfer window.
35 min: VAR call? Penalty check for a handball from a PSV player but that's waved away. Saka wafts in the corner. And Gabriel Jesus might have done better.
Fulham XI: Leno, De Cordova-Reid, Diop, Ream, Robinson, Reed, Joao Palhinha, Willian, Pereira, Kebano, Mitrovic Subs: Rodak, Adarabioyo, Duffy, Wilson, Cairney, James, Mbabu, Vinicius, Harris.
Aston Villa XI: Martinez, Bednarek, Konsa, Mings, Young, Ramsey, Douglas Luiz, McGinn, Bailey, Ings, Watkins Subs: Olsen, Cash, Sanson, Buendia, Chambers, Nakamba, Coutinho, Dendoncker, Archer.
Ashley Young making his 400th Premier League appearance, Philippe Coutinho is benched still. Buendia will be carrying the creative burden. Jan Bednarek – remember him from Southampton – makes his debut.
30 min: Mary Waltz got in touch: "How long can Arsenal keep up this outstanding run of play? Truly impressed. The Guardian does an admirable job on keeping the various league tables up to date. But you're missing one. The race between the UK and the US for the most insane democracy title."
Vieira meanwhile loops over a pass that Gabriel Jesus just fails to reach.
27 min: At last, a PSV counter, though it ends up with Xavi Simons crashing the ball high. But a little warning, and the game opening up a bit, too.
25 min: It continues to be all Arsenal, with PSV rarely finding the way through the midfield. Then, at last, they get the ball down and pass, only to play the ball back to their goalkeeper as Arsenal have pressed them hard.
21 min: Jesus coming into it, and Tierney is always the out-ball
20 min: It's been slow-going, if we are honest. Jesus has a dig but wraps his foot round the ball and misses.
16 min: PSV – finally – mount an attack. They have been very cautious so far. Gakpo hasn't touched the ball yet. Saka is called on to come back and clear the lines.
13 min: Jesus wants a penalty but is penalised for a high-kick instead.
11 min: Plenty of noise from the PSV fans, their trip to London delayed by the Royal funeral. Anyway, Tierney has just had a dig from the edge of the box. He go under it, and walloped it somewhere in the vicinity of the Holloway Road.
7 min: Nketiah is also to the fore, him and Tierney seeming to be constantly in possession. PSV seem to looking for the counterattack but will need the ball to do that.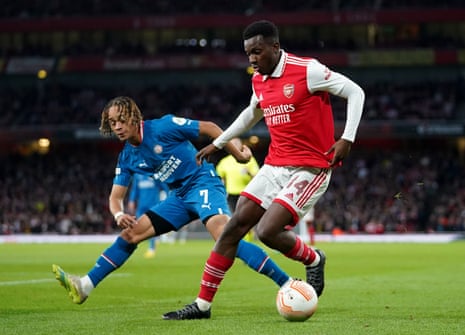 4 min: For two teams who are known to be attacking, it's been very quiet. The aforementioned Tierney is seeing plenty of the ball. He fails to find Vieira with one pass across the box.
1 min: They are underway at the Emirates.
Good fact there about Kieran Tierney, who becomes the first Scot to make 100 appearances for Arsenal since Charlie Nicholas in 1985. Champagne Charlie was signed from Celtic, too. Others include George Graham, Bob Wilson, Frank McLintock, with Ian Ure stuck on 98.
Charles Antaki gets in touch: "The men's team will have to go some to match what the women did last night, beating the European champions 5-1 away from home. They did it while resting star player Vivianne Miedema on the bench, so is that what Mikel Arteta has in mind in resting, erm, Aaron Ramsdale?"
Good point, Charkes.
Ruud himself spoke to BT but said he hadn't even mentioned his square-gos with the Gunners down the years.
It's no issue and there's no link to that. It's two teams facing each more or less 20 years later and it's in the past, I think. Both teams want to play football, there's wonderful talent on the pitch and on the benches so it's going to be an exciting match.
Keown and Van Nistelrooy memories.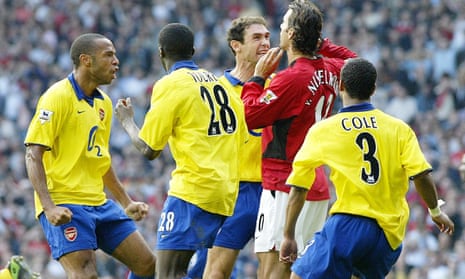 In the words of the magnificent Scott Murray.
Early in the 2003-04 season, the teams met Old Trafford. Vieira was sent off for a wholly unnecessary kick at Van Nistelrooy. He had to be led off by, of all people, the renowned diplomat Boutros Boutros-Keane. Van Nistelrooy had a chance to score the winner from the penalty spot in injury time, but hit the crossbar. Martin Keown, seething with perceived injustice, and a general dislike of the striker, who Arsenal perceived to be regularly trying it on, got right up in the striker's grille. Arsenal escaped with a draw, and remained unbeaten in the league. Given it was only September, that was unremarkable at the time. But we all know how the rest of the season panned out for the Invincibles, who became the first team since Preston North End in 1888-89 to go through an entire campaign undefeated….

Not once, but twice. Because there was only one way Arsenal's unbeaten run in the league would end. Going for the 50 not out, they lost 2-0 at Old Trafford. Van Nistelrooy should have been sent off for a dreadful tackle on Ashley Cole, but instead scored a cathartic penalty. It all kicked off in the tunnel after the game. Wenger spoiled for a row with Ferguson, but it was Cesc Fabregas who dealt the memorable blow, comically landing a slice of pizza on the United manager's face.
PSV are unchanged from last week's 5-0 defeat of Zürich. Win this and they have a foothold in the next round, too. All eyes on Cody Gakpo, the PSV captain on talisman, who was linked with Arsenal in the summer. He's scored 14 goals this season, and may well be one of the stars of Louis van Gaal's World Cup squad. To these eyes, he was a little disappointing in the two legs of the Rangers tie, particularly the second leg. So, a bit to prove.
The Europa League is not the main target this season, Arsenal have a more impossible dream in mind, as Nick Ames wrote this week.
One doubt will linger into next year. Arsenal were due to host Manchester City on Wednesday until their rescheduled Europa League tie against PSV Eindhoven took priority. Should current form be repeated to the letter they may not have to beat Pep Guardiola's side this season, but reality will not be so simple: Arsenal should have prevailed when they met at the Emirates Stadium on New Year's Day, instead reverting to modern-day type and falling short. They have not won that fixture in the league for seven years and it feels like the final frontier to potential greatness.
Mikel Arteta, with the selection of Gabriel Jesus and Bukayo Saka, seems to be trying to get qualification secured so Arsenal can rest up in the final two matches. He's made four changes from the game with post-rock's Bodo/Glimt: Takehiro Tomiyasu and Gabriel replace Ben White and William Saliba in defence. Martin Odegaard is replaced by Granit Xhaka brought in and Jesus plays ahead of Reiss Nelson.
Arsenal: Turner; Tomiyasu, Holding, Gabriel, Tierney; Lokonga, Xhaka, Vieira; Saka, Jesus, Nketiah
PSV: Benitez, Mwene, Ramalho, Obispo, Max, Gutierrez, Sangare, Simons, Veerman, Gakpo, Til
Welcome. It was a week into Liz Truss's premiership of the United Kingdom of Great Britain and Northern Ireland that this game was supposed to be played. But then, with London police unable to properly man a match in which PSV's large support was considered a risk, it was moved. Arsenal actually played on the Sunday after the original Thursday fixture, smoshing Brentford in the process but these are the times we live in, and this match will be played as the Tory leadership election hoofs into gear once more on the 44th day of Truss, and the last, pretty much. Hopefully, football can live up to its status as one of the very best distractions from what goes on in the front pages, and on the front of this website. Arsenal have won all three matches so far, while PSV, managed by Ruud van Nistelrooy, and who lost out on the Champions League to Rangers, have seven points. Ruud and Arsenal have plenty of previous, as some of you may recall. Think Martin Keown descending on Ruud like a pterodactyl on crystal meth, and a riotous finish at Highbury in that same, dim and distant year of 2003.
And that's not all. The Premier League's midweek round, as presented by Jeff Bezos in the UK, and somewhat prone to buffering, even for those of us who think they have paid good money for high-speed internet connections, continues with two choices. At 7.30pm UK time, Fulham take on Aston Villa, and it's the latest last-chance saloon for Steven Gerrard. Stories of Mauricio Pochettino coming have been hotly denied by Villa's people but the fans ain't happy with Steven, not least because Steven's dour demeanour is reflected by the sheer unwatchability of his team.
To follow, at the deadline-busting, wholly unnecessary kick-off time of 8.15, it's Leicester v Leeds, in which Brendan Rodgers' own dance with the P45 continues, and Jesse Marsch is not exactly copper-bottomed, either. The pressure's on across the board, and we are only 11 games into the season. Mind you, as Liz Truss might tell you, nobody gets much time these days, especially if you make an absolute mess of it.
So, a clocko it is, and team news and reaction to follow.
Those kick-off times again:
Arsenal v PSV – 6pm (UK time)

Fulham v Aston Villa – 7.30 pm

Leicester v Leeds – 8.15pm
Join me.